October 29th 2011
Jake's Nightclub & Bar
419 N. Walnut St.

Doors 9:00pm
Shows 10pm & 12am -Two Unique Sets

Tickets Sold at Jake's Nightclub, by B3 Performers & Verbal Terrorism Productions
Ticket Prices:
Pre-Sale $7
Day Of with Costume $10
Day Of without Costume $12

Starring:
Jada B. The Emcee & The Burly-Q Battalion!
Violet Phoenix, Kutie Kitai, Mal Nevolante, Vixen Vajazzle, Luscious Velvet, Scarlett Nopantson,Tessa von Twinkle, Sugar Lee, Vivian Lashes, Bombshell LaBelle

Also Starring B3's Student Brigade -2 Cherry Mary, Mercy Merlot, Tea Just Tea, Rose Hipps, Lemondrop Lamont, Dominique de Beauté

Vaudevillian Acts:
Rembrandt & McGillicutty

Plus Musical Acts:
The Burly-Q Band -Lead by Nick Romy
&
DJ Fetha (from Indy!)
Bloomington Burlesque Brigade Presents: a chilling thrilling scream filled night of "Halloween Horror-Burlesque!"

Chicago Burlesque Show

Saturday, November 5
10:30pm

Stage 773
1225 W Belmont Av
Chicago IL 60657

Tickets: $18
link here

Jump in the time machine with Vaudezilla as we pay tribute to the era of live shows. Think "Lucy and Ricky." Think "Jackie Gleason." Put a burlesque spin on it and a dash of our patented anything-goes style and you've got Vaudezilla's "Live Band Burlesque!" Join us as we kick off our newest monthly show. You'll see all of your favorite Vaudezilla performers and the musical stylings of the Steve Marquette Band. Live theater...no safety nets... anything can happen!

Show Performers Include:
Red Hot Annie
Jeez Loueez
Po'Chop
Trixie Sparx
Mister Junior
Mia D. Vine
Saucy Jack
Anita Lilmore
Booty Garland
Paprika Ame
Dirty Devlin
Kitty Karoline
Abigail Ala Mode
Jackie Brown

Special Guest: Marci Beaucoup

Featuring the aerial & acrobatic antics of the Dolls of Doom
Vaudezilla presents Live Band Burlesque
Burlesque classes begin at Vaudezilla Studios on Sept 7
Burlesque Classes - for ladies & gents!
http://vaudezilla.com/burlesqueclasses.htm
(flyer available at link)
Mondays, Wednesdays, Thursdays, Saturdays
Vaudezilla Studios
3614 W Belmont
Chicago IL 60618
$20/ea
Class Details:
Registrants for burlesque classes must be 18+
Ever wanted to learn the fine art of the bump and grind? Now you can. Get your body in motion with some smooth moves courtesy of some of the top burlesque performers in Chicago: Red Hot Annie, Jeez Loueez, Tito Bonito, and more!
Vaudezilla's teachers will steer you through all the burlesque basics, from shimmys and twirls to bumps and grinds. Whether you're looking for sexy fun fitness, or you just want to get in touch your inner diva, our teachers will keep you on your toes at Vaudezilla Studios.
Classes are $20 apiece, or eight weeks for $140. Sign up today and get ready to strut your stuff! Register by email to annie@redhotannie.com.
----------------------------------------
----------------------------------------
------------
Lincoln Fair: A Monthly Burlesque Expo
http://vaudezilla.com/lincolntaproom.htm
(flyer available at link)
Friday, Sept 9 - 9pm
Lincoln Tap Room
3010 N Lincoln Av
Chicago IL 60657
FREE
Show Details:
Every month, we bring you everything you've come to expect from a Vaudezilla show: the finest burlesque talent that the Windy City has to offer, the fabulous Vaudezilla Vixens, our trademark swag bags, and more fun than the law should allow, all hosted at one of our favorite bars, Lincoln Tap Room! Starring: Red Hot Annie, Trixie Sparx, Po'chop, Mister Junior, Anita Lilmore and more!
----------------------------------------
----------------------------------------
------------
Bikes & Burlesque
http://vaudezilla.com/pintspistons.htm
(flyer available at link)
Wednesday, Sept 14 - 9pm
Saturday, Sept 24 - 7pm
Holiday Club
4000 N Sheridan Rd
Chicago IL
FREE
Show Details:
Every Wednesday night, Holiday Club hosts "Bikes & B-Movies" where you can join the Holiday Club Sidewalk Motorcycle Paddock and view the best in two-wheeled iron. Inside, screen three classics of motorcycle cinema.
Plus, one Wednesday a month we will tantalize you with Bikes & Burlesque... featuring the live lustful ladies of Vaudezilla to help get your mind off your motorcycles for a moment. Starring: Red Hot Annie, Trixie, Sparx, Po'Chop, Mia D. Vine, Anita Lilmore and more!
----------------------------------------
----------------------------------------
------------



i dont have the talent to perform a living- i took ballet when i was a kid, that's about it. id like to pursue it as a hobby, but don't really know where to look. burlycon looks interesting, but it's alot of money to spend to go somewhere where i don't know anyone. i don't need someone to hold my hand, ive always been independent, but i imagine it'd be alot more fun to oggle at all pretty glittery stuff with a friend. i've looked into local theater, and i think i'll call up one of them to volunteer my time backstage. the one im looking at, though, doesn't mention anything about volunteering on their site, so im not sure it's an option.

im only coming across dance classes (not as risque as id like) and strip joints (a bit TOO risque for my taste). i looked into belly dancing lessons once, maybe ill try that.

does anyone have any advice for finding a local burlesque community? is there a search term i should try? btw, im 25 yrs old, im looking for an adult community- meaning there'd be peach schnapps. i enjoy a cocktail when im cooing over sequins....
is there anyone here from the scranton, pennsylvania area? im having a very hard time meeting people with an interest in burlesque in my area.
Current Mood:

hopeful
Vaudezilla presents Jeezy's Juke Joint
http://vaudezilla.com/jukejoint.htm
July 16, 11:00pm
Greenhouse Theatre
2257 N Lincoln Av, Chicago IL
$15 Tickets


Show Details:
For one night only, Vaudezilla – one of the most prolific and successful burlesque troupes in Chicago – turns the reins over to one of its own, the Burlesque Powerhouse Jeez Loueez, to bring you the hottest night of the summer: "Jeezy's Juke Joint: A Black Burly-Q Revue!" This jumpin', jivin', foot-stompin' revue features the finest brown strip teasers and variety entertainers this side of the Mississippi. Join Vaudezilla and your host, Jeez Loueez, as we pay homage to African-American burlesque and vaudeville with some of the best performers from around the country. Grab a drink, pull up a chair, and let loose at Jeezy's Juke Joint. You ain't never seen a show like this!
Fame & Shame on the LES Presents:
this is what we have...
Solo Performance by Heather Acs
Music by Jazzmen Lee-Johnson and Gepetta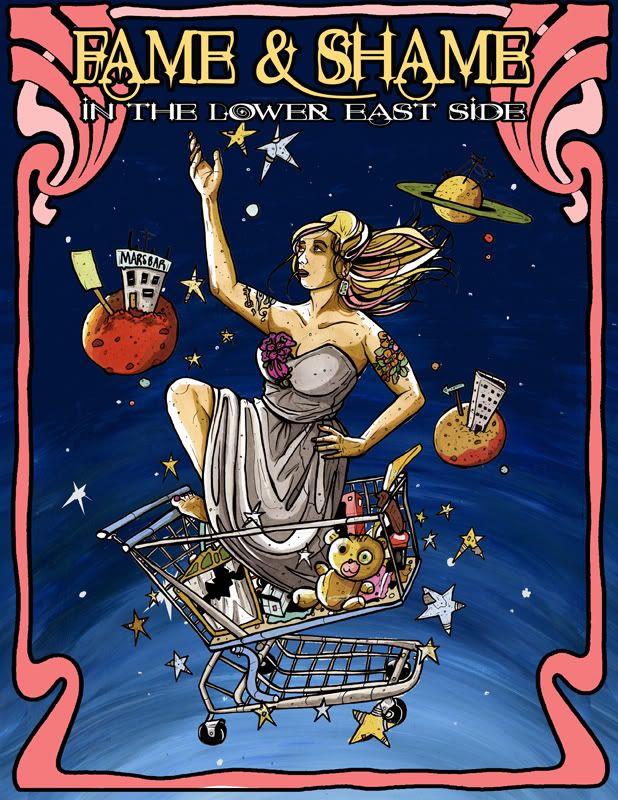 THREE SHOWS
Thursday, 7/7 @ 8pm at CSV, 107 Suffolk Street - $5
Friday, 7/8 @ 8pm at CSV, 107 Suffolk Street - $5
Saturday, 7/9 @ 8pm at Le Petit Versailles, E. Houston & Ave. C - FREE, but RSVP Required for Saturday show: http://bit.ly/rsvplpv


.......
Sometimes what we have is not enough. Sometimes what we have is far too much... Solo performance artist, Heather Acs will create something out of nothing to bring you an astronomical evening of storytelling, music, magic, and theatre that needs no stage.
You don't need to be famous, you don't need to be rich, dreamin' is free. Enjoy an intergalactic exploration of adventures, interconnectivity & the story of stardust. Sometimes what we have, is just right.
HEATHER M. ÁCS is a Brooklyn-based, multi-media theatre performance artist, activist, educator and high-femme troublemaker. Her gritty, glittery work has been featured in festivals, theatres, and galleries across the U.S., Canada, and Europe. She performs and facilitates workshops at community spaces, colleges and conferences from coast to coast. Heather has worked with Justin Bond, Claude Michelle-Wampler, J. Ed Araiza of the SITI Company, and filmmaker, Steven Soderbergh. She is the Co-Producer of the Heels on Wheels Glitter Roadshow, a touring, performance-art cabaret of flashy, queer femme performers. She is also a dedicated teaching artist, using theatre as a tool for social change with low-income youth.

More Info:
http://www.departmentoftransformation.org
Hey Dolls!
As my regular every day less sparkly self and as a performer I've avoided manicures for some time. I just seem to jack them up before I even get home. A fellow performer just introduced me to Shellac by CND. I'm in love.
Amazing, gorgeous, INDESTRUCTIBLE nail polish. It lasts -no joke - two weeks. I got mine 2 days before a show that I was still building my costume for...got hot glue all over them... gem tac...all over them... just peeled the gunk off and there was no damage to my polish. I also used my nails to pick off a bazillion hot fix crystals from an old costume to reuse...no damage. *boggle*
Just wrote a big gushy review with pics, details and links here: Shellac Manicure Squee!
xoxo
Sweet Louise
Saturday, June 18 at 11:30pm - June 19 at 1:30am
The Parkside Lounge
317 E. Houston @ Attorney
Manhattan, New York
OH HAI!
D20 Burlesque has rolled critical hits on your tabletop, sunk your battleship, and haunted your dreams, and now they are back to invade your interwebs. On Caturday June 18th D20 Burlesque is back at the Parkside Lounge with a show inspired by internet memes, and trust us, rule 34 will be in play.
Neil O'Fortune will host this evening of lulz and ladies. With return appearances by
Anja Keister
Miss Rose
Lily Stitches
Kita St. Cyr
plus the D20 Burlesque debuts of
Doctor Princess Lady Scoutington
Stella Chu
and Gigli Puff
with go-go by Lula Rouge D'Amour
Tickets are available online:
$10 general admission, $15 limited gua
ranteed seating
or
$15 at the door general admission
21+ event, 2 Drink minimum
Sponsored by The Compleat Strategist and ICanHasCheezburger.com
D20 Burlesque presents: I CAN HAS INTERNET MEMES
Tits or GTFO
KTHXBAI
facebook event page
D20 Burlesque FB fan page
x-posted to: newyorkers
Hello Burly Sweetie Pies!